Fun, unique & eco-friendly art workshop at Summer House Park
Eco-Art Camp where creativity comes naturally!
Welcome to a fun, unique and eco-friendly arts workshop where we will create one-of-a-kind crafts using natural materials found in our own environment. At Eco Art Camp we help connect kids to nature, to fuel their creative expression by opening the senses and noticing more of the world around us. We create projects with the use of natural materials, learn about the items we use, sometimes including recycled & repurposed items. Adults are welcome too!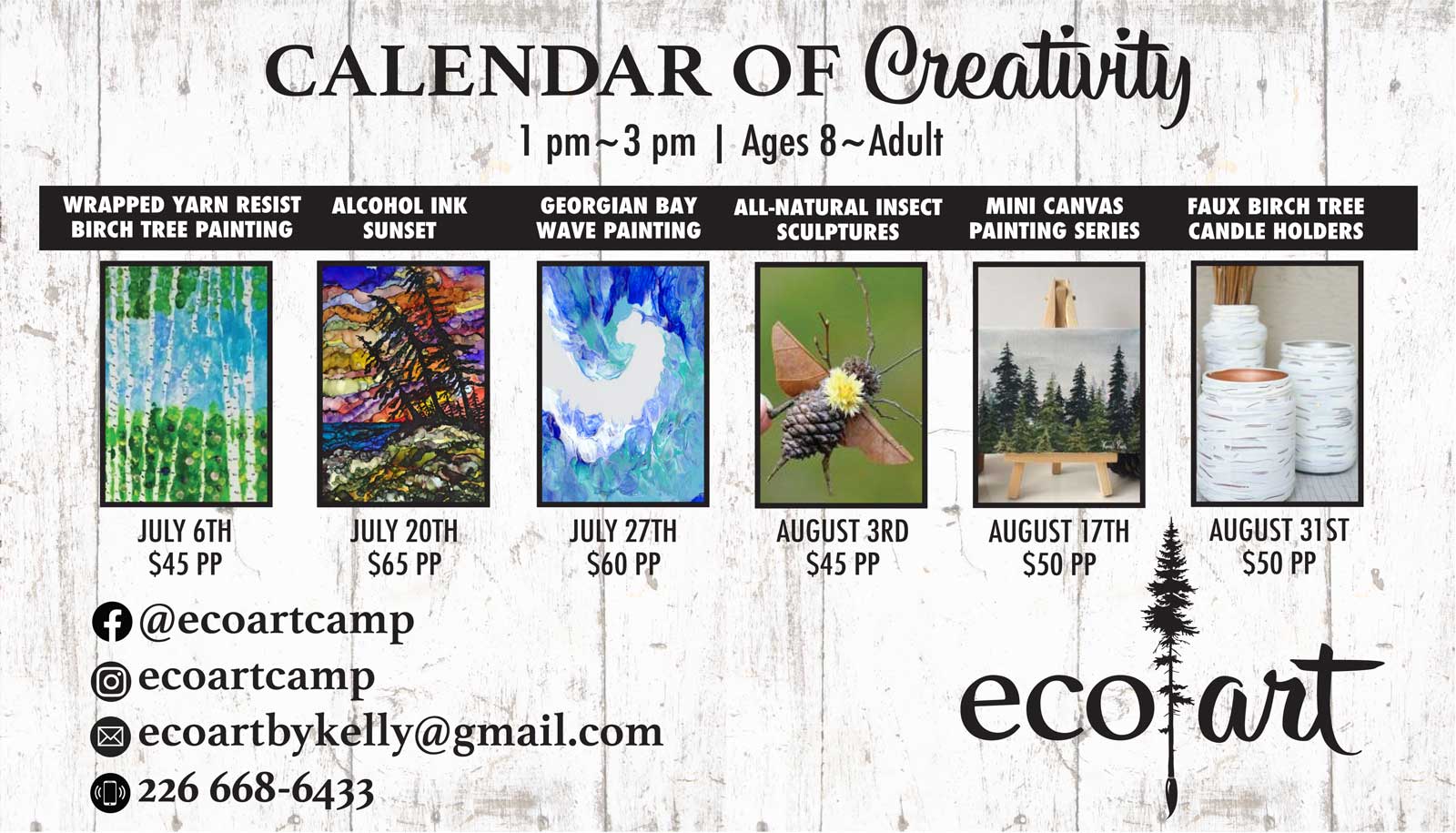 MOST WEDNESDAYS, July - August
TIME: 1 -3 pm
COST: $45-$60 per person, depending on activity
WHERE: Summer House Park
WHO CAN JOIN: Everyone is welcome so if you are not staying at SHP, inquire in our registration office. Appropriate for ages 8 - adult.
REGISTRATION: Sign up for the day-camp in advance at ecoartbykelly@gmail.com, call or text 226-668-6433
Eco Art Day Camps are open to everyone including those not registered and staying at Summer House Park. For more information about signing up, call 519-795-7712 and talk to one of our friendly reservation team!
ABOUT OUR DAY CAMP FACILITATOR
Hi! My name is Kelly. I am stylish and out-going, I enjoy simple things and I love to have fun. My life is busy, streamlined and well-organized and has been known to have a certain flair for the artistic. I have been a Graphic Designer for over 20 years, graduating from Conestoga College. I have had many years of experience making use of my creativity through various different outlets. Creativity is my passion, not having enough time to do it all is my life!
I hope you are ready to explore your creative mind, have fun and maybe even learn something!
THIS SUMMER: 2022 schedule posted above.

Wrapped Yarn Resist Birch Tree Painting
Alcohol Ink Sunset
Georgian Bay Wave Painting
All-Natural Insect Sculptures
Mini Canvas Painting Series
Faux Birch Tree Candle Holders
Interested in attending our Eco-Art Day Camp? Please fill out the form below and send to us to request a date!